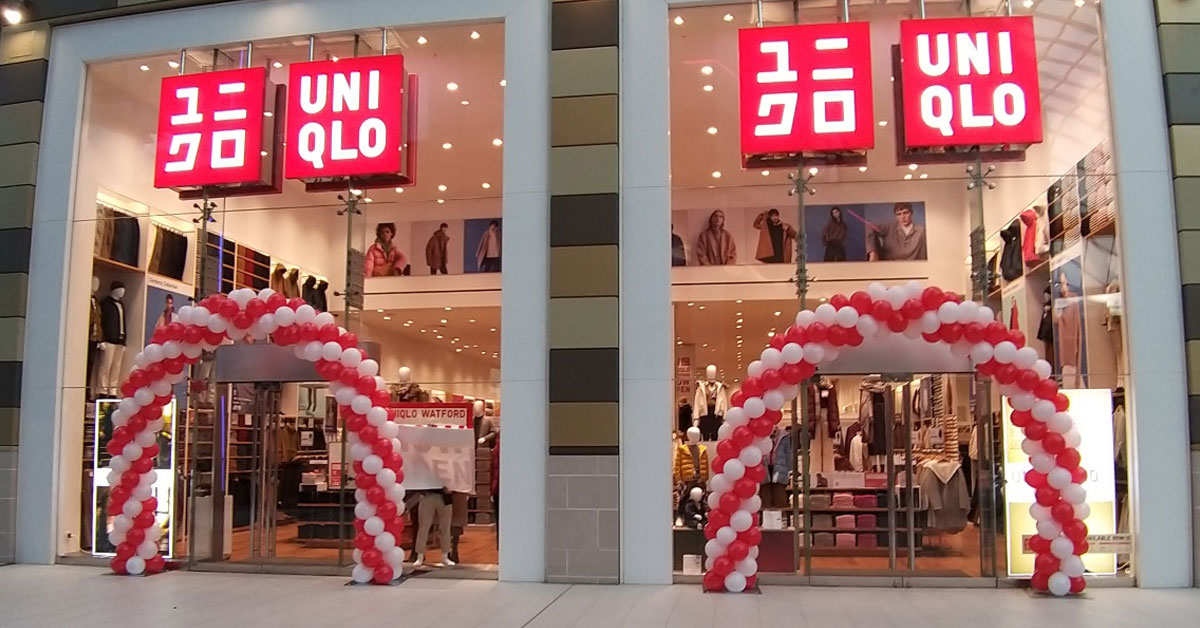 Japanese fashion retailer, Uniqlo, opened the doors of its new Watford branch on Thursday 3rd October and were delighted to report strong sales results in its first launch weekend.  Watford was closely followed by a new Islington branch, opened on 24th October, as part of Uniqlo's significant growth plans across Europe, including further UK store openings in 2020.
The brand has worked with Chesham-based corporate balloon printer and merchandiser, B-Loony, across a number of store openings, and chose to use fully sustainable giant red and white balloon arches at both store entrances to draw attention to the newly opened store in the Watford Intu Shopping Centre.
Elliott Fletcher, Marketing Manager of Uniqlo UK said:
"The retail environment is tough across the board, but there is still scope for retailers to do well on the UK high street. We are expanding in the UK to grow our presence outside of our well-established London stores, as well as entering new markets across Europe.

We use balloon arches because we find that they create interest around the store entrances when we have new store openings.  Once people spot a small crowd gathering, shoppers are drawn into the store to see what else is going on.  Knowing that the materials are sustainable is really important for us, as we like to reassure our customers that we are considering the impact of our store openings on the environment.

For our latest new market opening in Italy, all our promotional material was either sustainable or recycled. Customers presume that balloons are not sustainable, so we like the reassurance that B-Loony provide by printing their biodegradable message onto each balloon."
B-Loony has recently launched its new sustainable retail merchandising range, including natural rubber, plastic free balloons which will biodegrade, recyclable cardboard balloon holders and sustainable, environmentally friendly bunting. Last month the company took home the Save the Planet Award 2019 at the European Carton Excellence Awards in Malta.
Andy MacInnes, Commercial Director at B-Loony has seen a rise in the requirement for high street clients to source sustainable promotional products.
"We work very closely with clients to find sustainable alternatives for their marketing activities. Our innovation team was tasked with finding an alternative product to replace single use plastic balloons sticks, and they spent a number of years developing our award winning cardboard balloon holders. We now also offer eco friendly bunting, and are working to remove single use plastics from our business. Of course balloons have never been made of plastic, but many people don't realise that, so we find printing our message onto each balloon helps inform shoppers that natural rubber latex is already biodegradable."
Images courtesy of B-Loony with permission from Uniqlo: Watford Store Opening Thursday 3rd October 2019