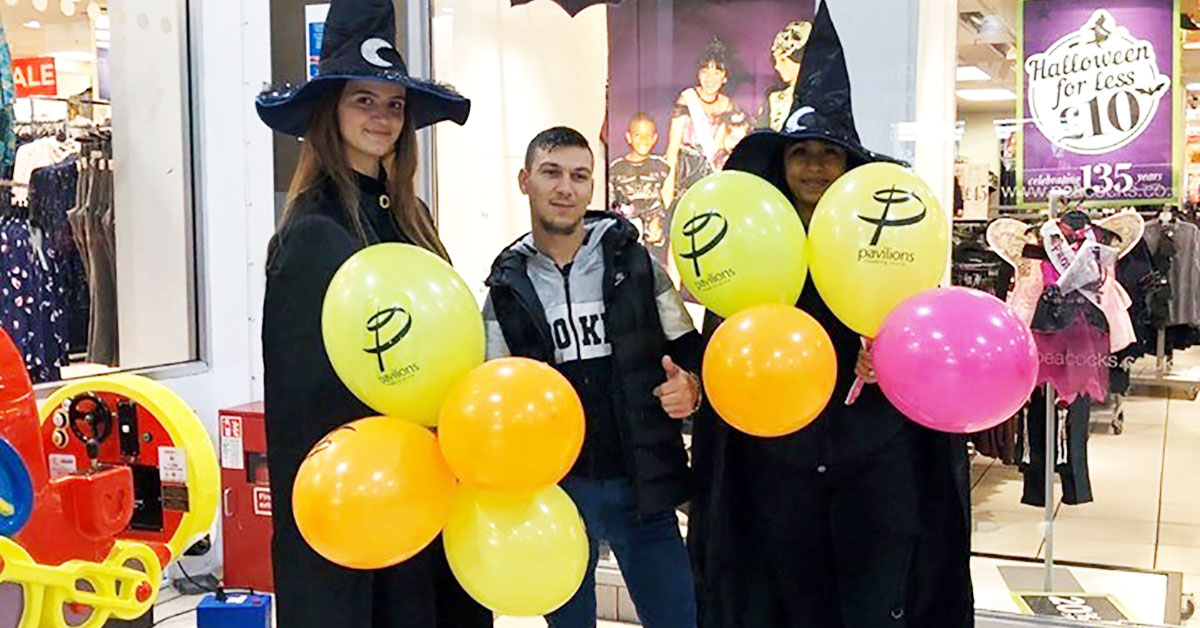 It's that time of year again when children are off school carving pumpkins, selecting costumes and eating as many sweets as they can get away with!
As Halloween generally sits in or around half term holidays, local town centre businesses often use the popular seasonal event to encourage families to spend time together: shopping, hanging out and perhaps treating themselves to a meal or a trip to the cinema.
OnBrand, a full service marketing agency based in St Albans, work with over 250 shopping centres up and down the country, providing spooky Halloween shopping centre radio playlists, family activities such as slime workshops and pumpkin carving, with press releases, social media and customer newsletters designed to encourage footfall and spend within the centres.
At B-Loony, we often advise clients that having their logo printed onto large volumes of balloons carried around by hand - using our new sustainable BalloonGrip® cardboard balloon holders  - in and around their business, will provide an eye-catching addition to brand awareness at an event.
Shoppers will spot a trail of children carrying branded balloons and often follow the crowd to see what else is going on at the location.  We work with a number of high street restaurants, fashion retailers and marketing agencies such as OnBrand to help deliver on-site branding that gets business names noticed as well as appealing to their customers.
Alexandra Ziff, Account Manager at OnBrand said:
'This weekend saw the whole OnBrand team running Halloween Events at shopping centres up and down the country. We recommend handing out balloons and balloon holders at our large family events, as children love a freebie, parents are happy as the children are entertained and leave with a small gift, and the shopping centres get their branding out and about around the town centre.
The new cardboard balloon holders are particularly popular as children can get their hands around them, and tend to hold them themselves, rather than handing them straight to their parents! Our promotional staff find them easier to work with too, as they make blowing up 1,000 balloons on the day a much easier task.'
Andy MacInnes, Commercial Director at B-Loony agrees:
'Our customers have ordered branded balloons for giveaways for the last 40 years! In the last few years we have concentrated our innovation efforts on making this popular activity more sustainable.  Balloons will already biodegrade as they are made from natural rubber latex (not plastic!), and our new cardboard balloon holders mean that balloon giveaways no longer rely on single use plastic balloon sticks.  We are delighted that clients are choosing our sustainable range and are working to remove single use plastics from our business.'
Daniel Graham, Managing Director at OnBrand added:
'This year at OnBrand we are going large for Halloween. As well as decorating our clients' businesses with scary props and branded balloons, we have launched our own window display campaign from our newly launched high street business in St Albans. Not only will it attract attention and scare a few passers-by, but we are also informing local businesses that we can increase their branding and work with them on 'Spooktakular Marketing Ideas.'  Our staff will all be dressed up in full Halloween costumes on the day, so pop in and say hello!'