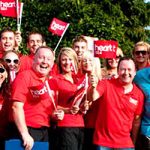 B-Loony is now the leading UK manufacturer of top quality and low cost custom printed promotional hand waving paper flags.
We manufacture the flags ourselves in our UK factory based in Chesham, Buckinghamshire, and have recently invested in new machinery that has given additional capacity to meet the demands for large orders and short lead times.
We use the best printing and finishing methods, using quality materials that give customers safe, great quality flags and value for money.
We are really innovative, always introducing new products and materials, with particular emphasis on product safety and environmental issues.
We can now supply 100% BIODEGRADABLE flag sticks which are made from paper. There are also polyester material flags, plastic LDPE flags (ideal for sporting events) as well as large format outdoor feather banner flags.
---
Hand Waving Flags
If you have a high profile public event such as a sports competition a show or a fete why not consider our excellent custom printed hand waving flags.
Perfect for use as walking advertisements. These flags are also available in 100% biodegradable form.
Read more about our hand flags, or get a quote.
---
Doodleflag®
Our award winning Doodleflag® is the perfect promotional tool for entertaining children. With a branded print one side and a colouring in picture the other, the flag features crayons in the stick, for an all in one toy and promotional flag.
Read more about our Doodleflag®, or get a quote.
---
Glowflag®
Using a custom printed paper flag, fixed to a glow-in-the-dark stick, we've created a fantastic advertising flag for festivals, pantos, Christmas light-ups and outdoor events at night.
With the addition of a light-up stick, flags can be used at night in theatres, stadiums and arenas.
Read more about our glowflags, or get a quote.
---
Gourmet Food Flags
Miniature paper flags attached to wooden cocktail sticks for party food and corporate events.
All products are food-safe and manufactured in hygienic conditions.
Read more about our gourmet food flags, or get a quote.
---
Feather Flags
Complete feather flag display systems with a full range of mountings and accessories.
Designed to create eye catching and colourful advertising displays.
Read more about our feather flags, or get a quote.
---
Browse the site to see what we do and either complete the QUOTE form or CALL our experienced Sales Team on 01494 774 376 who would love to help.