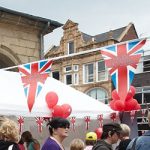 Our high quality bunting is digitally printed and manufactured by B-Loony in the UK. Made from different materials for indoor/outdoor use and durability. We have developed unique machinery to double production capacity.
B-Loony is a UK manufacturer of custom printed bunting all made at its factory in Chesham, close to the M25. We believe this is important for customers who need reassurance about the origin and safety of products and want to buy from suppliers they trust.
In recent years, and certainly since the Queen's Jubilee and the London Olympics in 2012, bunting has been growing in popularity as a fantastic advertising display product for use in-store and at outdoor events.
B-Loony works with major retailers and agencies supplying a range of products (bunting, balloons, flags, sashes and banners) all ideal for in-store promotions and major events.
We have invested in bunting machinery so that we can sew literally thousands of meters of bunting which is what happens when you are supplying nationwide campaigns.
There is a choice of paper bunting for indoors and more robust synthetic paper for temporary outdoor use or strong PVC for long term weather proof bunting solutions. Our printing achieves perfect digital and litho prints and pennants can be cut to shape.
---
Paper Bunting
Paper bunting is versatile, whilst being the lowest cost bunting, and is best suited for indoor use.
Read more about our paper bunting, or get a quote.
---
Synthetic Paper Bunting
Synthetic Paper bunting is showerproof and ideal for short term outdoor or indoor use.
Read more about our synthetic bunting, or get a quote.
---
Outdoor Bunting
Outdoor bunting is waterproof and designed specifically for outdoor use.
Read more about our outdoor bunting, or get a quote.
---
Stock Bunting
Stock bunting is available in plain colours and with printed flags.
Read more about our stock bunting, or get a quote.
---
Polyester Bunting
Polyester Bunting is made from a material that looks more like the traditional cotton bunting fluttering in the wind.
Read more about our polyester bunting, or get a quote.
---
Video: Bunting Manufacture