Universal Robots, widely recognized as the market leader in collaborative robots, earlier this year announced that it is celebrating its 25,000th cobot sale by giving away a Gold Edition cobot, shipped free of cost, to one lucky customer.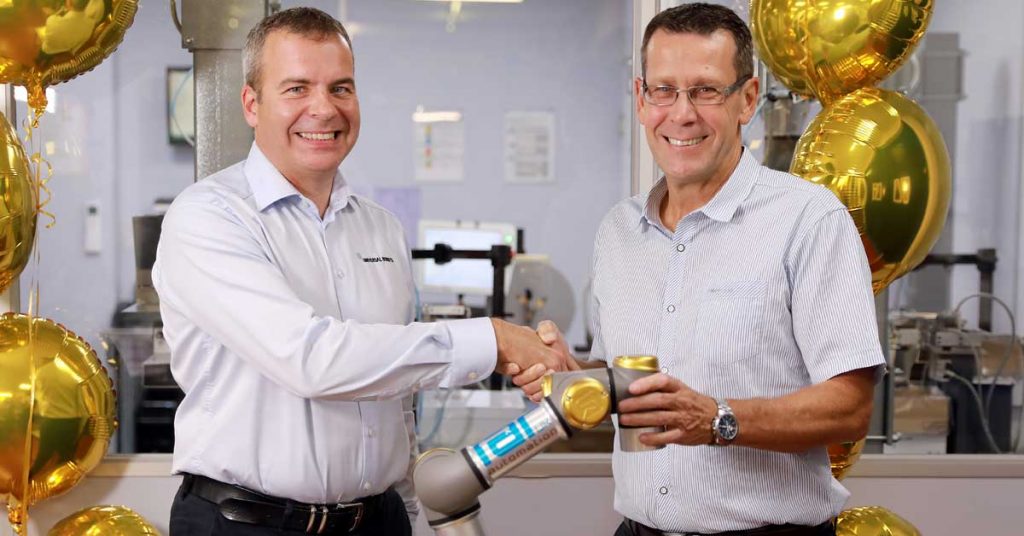 However, due to a huge response and interest from customers all around the world, Universal Robots decided to offer a Gold Edition cobot to a customer in each of Universal Robots' geographical areas worldwide.
The reward for each of these customers was the previously announced Golden Cobot with the joints painted in a rich, gold-coloured finish, a refreshing take on Universal Robots' iconic blue and grey cobots.
And the winner is…
B-Loony Ltd, were the lucky winners from the Northern Europe region and were presented with their very own Gold Edition UR3 cobot.
The meeting was attended by Mark Gray, UK sales manager at Universal Robots and UK distributor RARUK Automation.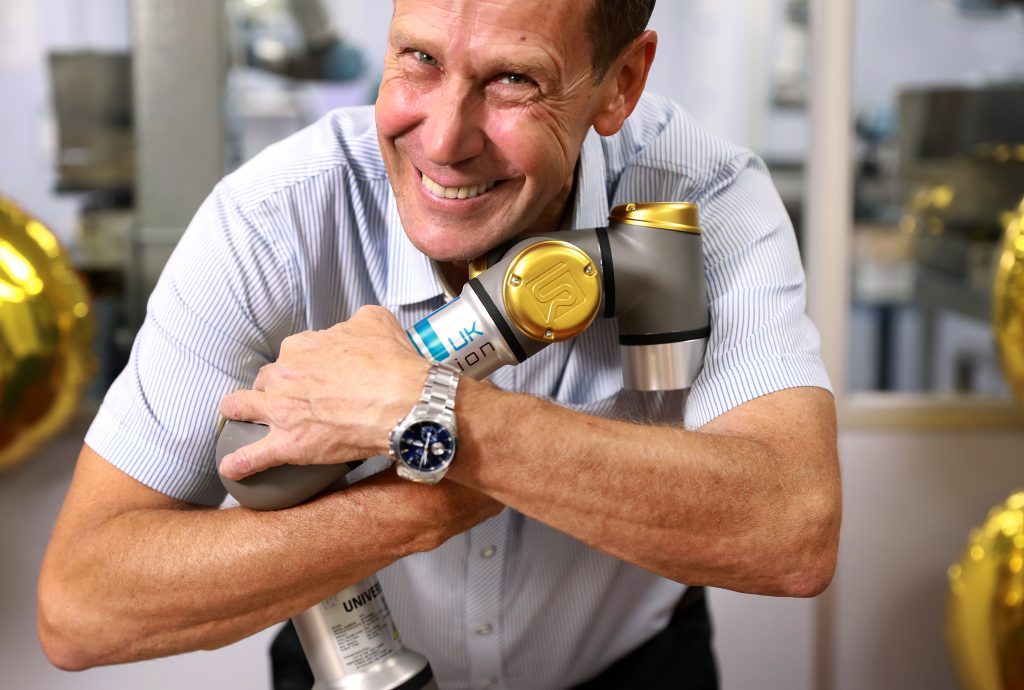 James Clephan, operations director at B-Loony, says: "On behalf of the entire company I'm delighted to receive this special gold edition cobot.
It will take pride of place on our production floor and has already proved a real hit with our employees.
The golden cobot will soon be put to work alongside our existing robots, helping us to grow our market share by producing 2 million meters of promotional bunting each year."
Mark Gray, UK sales manager, Universal Robots, says: "B-Loony is the perfect example of how small and medium-sized manufacturers can realize the benefits of flexible automation.
Adopting cobots has enabled it to continue manufacturing in the UK and to remain highly responsive to customer demands for personalized products, all while remaining highly competitive and growing their market share."
Gray says: "We couldn't have reached the historic 25,000 cobot landmark without visionary customers like B-Loony.
Our continued commitment is to make the unlimited potential of robotics accessible for all.
It's therefore fitting that with this golden robot we get to celebrate not just Universal Robots' success but also that of our customers who are transforming their workplaces, one cobot at a time."
B-Loony Ltd have been consistently investing in technology to support its UK manufacturing, and with the introduction of its first collaborative robots, saw huge increases in productivity and capacity. Robots and automated machinery have been utilised in the manufacturing and assembly of balloons, flags, and now bunting.
Unlike conventional robotic solutions, cobots are designed to work hand-in-hand with operators with maximum efficiency, opening up more opportunities for human-robot collaboration in the workplace.
These highly versatile cobots can take on a wide spectrum of tasks and have the fastest payback time in the industry, making them a viable option for small-scale businesses where conventional options may be too expensive.